페이지 정보
Writer

CRICH

작성일

Hit7,000
본문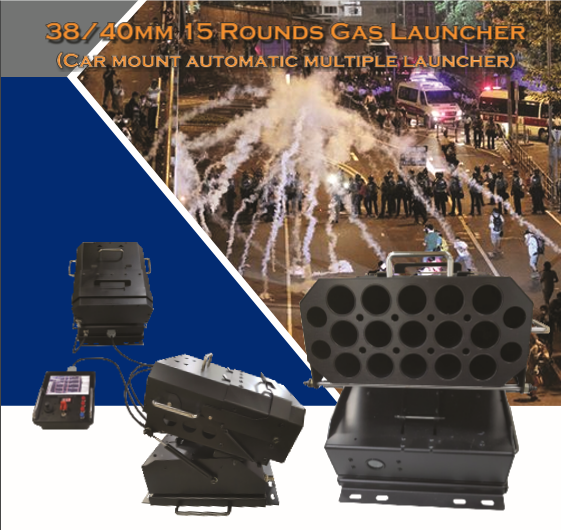 This 15rounds multiple launcher will be installed on top of the police vehicle and can be operated by remote controller 
remaining inside the car. All kinds of 38mm or 40mm tear gas cartridges or rubber ball cartridges can be fired from this 
launcher. So, police can take control of big size protest very effectively without being exposed from outside dangers. 
For easy handling, we designed it very simply and tried to reduce weight and size, so this machine can be attached 
or detached very easily and quickly. 
Specifications 
 Fire Type And Fire Mode

Hammer Type (Mechanical Firing System)

4 Type Fire Mode

(1st Button: 1st Lane 5 shots, 2nd Button: 2nd Lane 5 shots

3rd Button: 3rd Lane 5shots, 4th Button: All 15 shots) 

 Caliber

38 mm / 40 mm Option 

 Magazine 

 15 Rounds

 Ammunition Type

 CS Smoke Gas Cartridge

 CS Powder Bursting Cartridge

Rubber Ball Cartridge

Overall Length​

374±5 mm

​Height​ 

 246 mm

Width​ 

 417 mm

 Total Weight​ 

 37 KG

Fire Distance​ 

100 ~ 130 m 

Color​​

 Black and customer option color available 

Accessories ​ 

 Vehicle Mount, Remote Controller, Connecting Cables

Battery​ 

 DC 12V

Body Rotation​ 

 Up & Down about 45°​ ,Right and left about 120°​​

Camera & Monitor​ 

 Camera installed at the bottom of the body.

Monitor screen at the remote controller. 
Main Features
●
​ 
L
ight weight & Small size for easy handing
●
​ 
Quick magazine replacement
●
​
 Cartridge drop preventing system
●
​ 
Easy installation on top of the car